Matt Ralphs worked as an editor for many years, and now writes children's non-fiction and middle grade fiction, often with a focus on history, myths and folklore.
His dark adventure novels Fire Girl and Fire Witch were published by Macmillan Children's Books.
He currently has non-fiction projects in development with Nosy Crow and Bonnier.
He lives on the Grand Union Canal on a boat called Nostromo.
1. How can I write children's books?
Think of a story. Write it down. Read it to someone. Ask for their honest opinion. Listen carefully to what they say. Apply what you've learned. Move onto a new story. Repeat until you get good.
If this process makes you feel happy and content and fills your soul with joy, you are a writer of children's books.
2. What do you enjoy most about being a children's author?
Being able to communicate with children who, generally speaking, are far more open-minded and imaginative than adults.
3. How hard is it to publish a children's book?
There's no way to sugar-coat the answer to this question, I'm afraid. It's very hard. There are several reasons for this.
One is that there are lots of talented children's book writers – both published and yet-to-be published – who work very hard and produce great stories for publishers to choose from.
Another is that there are only a certain number of books that can be published at any one time.
However, there is one sure-fire way to ensure you get published: write a book that's absolutely brilliant. That has an amazing story. A compelling main character. A deep and meaningful theme. That's full of excitement and emotion and original ideas.
A tale so incredible it'll make every agent and editor in town desperate to publish it.
4. What is the most powerful book in the world?
The unwritten one you hold in your heart; the one you're desperate to write and show the world.
5. How many books do writers read?
Lots. And lots. And LOTS.
Writers learn from reading. When a writer reads they can decide what works, what doesn't; what they love, what they hate, what makes them go 'meh'.
The more you read, the more techniques and skills you'll assimilate. Your brain will soak it all up, without you even realising.
A writer should read widely. Books of all genres: adult, children's, romance, adventure, horror, literary fiction, Westerns, SF, Fantasy, classics.
And not only novels. They should read newspapers too, and magazines, and poems, and short stories, and film scripts…
Anything written can teach something, even if it's what NOT to do.
6. How many books do most authors write?
An author might write one book and decide that's enough, thank you very much.
Or they might try their hand at another, realise Book Number 2 is better than their first attempt, and get on with Book Number Three.
That book's even better so, emboldened, they crack on with Book Number 4.
And so on and so on, until, maybe, they write something they deem good enough to submit to an agent…
7. Are writers rich?
Well, I can't speak for all authors, of course, but I would say that most are not rich.
There are a few extremely successful authors, whose books sell by the pallet-load, and are made into films and TV shows and so on. But they're the exception.
There are some writers who make enough money to live on, and many many more who don't.
Most writers I know have second jobs or supplementary incomes to bridge the financial gap not filled by book sales.
Put it this way – there are much easier and more secure ways to make a decent living than by being a writer (and this has been the case throughout history, by the way).
You have to be really good at your job, grind hard, be ultra-reliable and professional, be prepared to hustle for work, and discard all dreams of getting rich because it probably won't happen.
8. Can writing a book make you famous?
Yes, if your book sells hundreds of thousands of copies all over the world.
But if that doesn't happen, be proud that at least you've written a book, because most people never do.
9. Can you share a photo of your bookcase or library that is meaningful to you?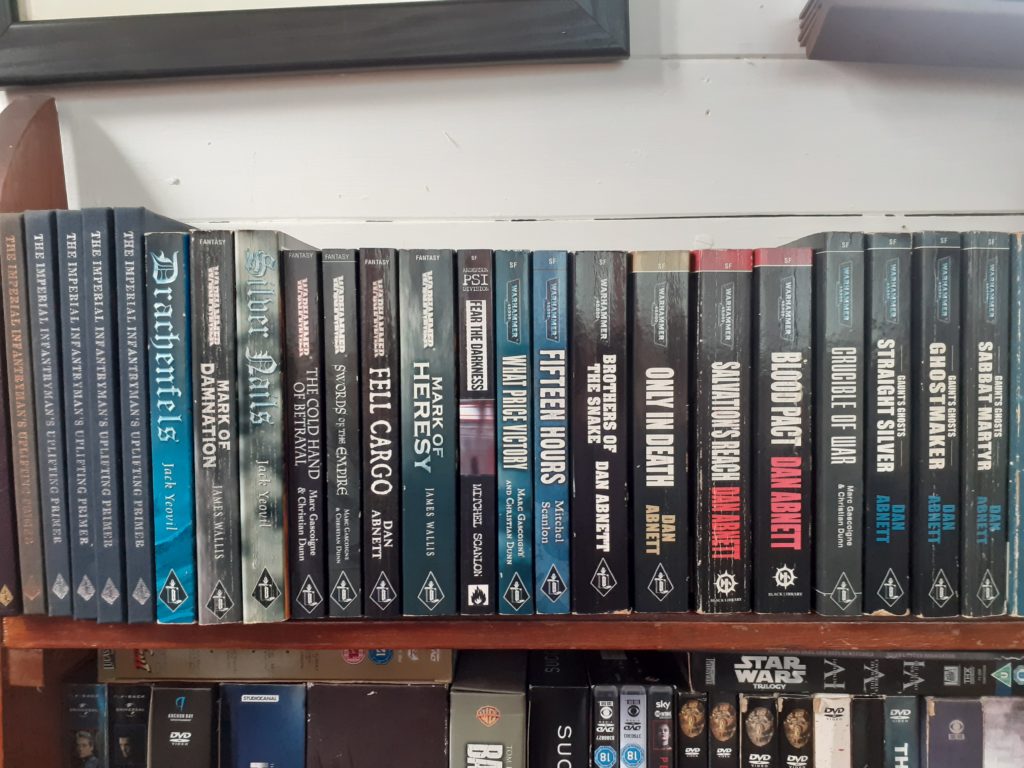 This bookshelf is close to my heart because it holds an anthology that contains the very first short story I ever published, and the first two books that followed.
In the many years since they appeared, when things in my writing career were not going well (it's an up-and-down rollercoaster kinda career), I'd look at those books and remind myself that if I'd done it before, I could do it again.
I just need to get in the chair and write.
10. If you could give one piece of advice to a young writer, what would it be?
To consider this: Your Imagination + Words = A Superpower
Thanks Matt!
You can find Matt's website at https://www.mattralphswriter.com/
And catch him on Twitter at @MattRalphs2