Poetry is the most romanticized form of writing. Though poets can write in any exam pad or notebook, writing in a dedicated poetry journal would fit their chosen art form much more.
The best poetry journal available on Amazon is the EvZ Classic Key Bound Retro Vintage Notebook. This stunning, leather-bound journal is the perfect size to take along anywhere to be ready when inspiration strikes and for a steal. 
Others are of excellent quality for a reasonable price, including:
This article will detail the ideal qualities of a poetry notebook and which journals fit the brief. We will also explore why the EvZ Retro Vintage Notebook comes out as the best notebook for writing poetry.
This post contains affiliate links which means Letter Review may be paid a small amount at no extra cost to you if you buy after clicking a link.
This leather-bound journal is the ideal notebook for any poet, available in A5 and A7 (pocket size) to take with you everywhere you go. This is a great journal not only for its gorgeous binding and cover but also because this journal is both sturdy and flexible.
The notebook has 320 blank and unlined pages, meaning there is ample space for you to let your inner creativity out with writing and accompanying sketches. The thick, smooth paper is excellent for any writing medium, including ballpoint and fountain pens, as there is no risk of them bleeding through the page.
The signature engraving on the cover and key pendant makes it a must-have birthday gift for the writer in your life. The strong bind and material mean it will also last longer than a typical notebook, allowing it to be cherished even after it's been filled.
The EvZ Classic Key Bound Retro Vintage Notebook has all of this.
The cherry on top is that it's highly affordable. In contrast, most other notebooks of this quality or less are more expensive.
Pros
Sturdy: The leather cover and binding paired with the thick parchment paper means this notebook was made to last.
Beautiful: The book's overall aesthetic is stunning with its antique look, engraving, and unique pendants.
Unlined pages: Poets have 320 pages to write and sketch on all they like, with no restraints.
Convenient: The small size and flexible covers mean you can take this journal anywhere without much risk of damage.
Affordable: Compared to other journals on the market, this one is relatively cheap, especially considering all of its perks.
Cons
Relatively small: Some customers included in their reviews that this journal is smaller than expected, which, though possibly inconvenient, shouldn't pose too much of a problem.
Heavier than the average notebook: Its small size means it isn't too heavy. Still, some prefer a lighter, slimmer notebook with thinner pages.
Not refillable: The most significant disadvantage to this journal is that it's not refillable, meaning that when you've used up all the pages, you can't insert new ones. But it keeps your poetry safe for many years.
Looking at these specifications, we can say that several factors determine how good a notebook is:
Practicality
Paper quality
Aesthetic value
Affordability
Let's look at these factors and determine which notebook fits into each category the best.
The YeeATZ Thick Hardcover Notebook is pocket-sized and has a built-in pen or pencil holder on the cover for added convenience. The leather cover protects this beautiful notebook on the go.
It also comes with a built-in bookmark and elastic closing band. The pages are lined, and there are eight perforated tear-off pages. The sturdy bind, hardcover, and thick paper mean this journal will withstand a fair amount of wear and tear.
The cream pages are aesthetically pleasing, smooth to write on, and substantial enough to avoid bleeding or ghosting, regardless of what you use to write with.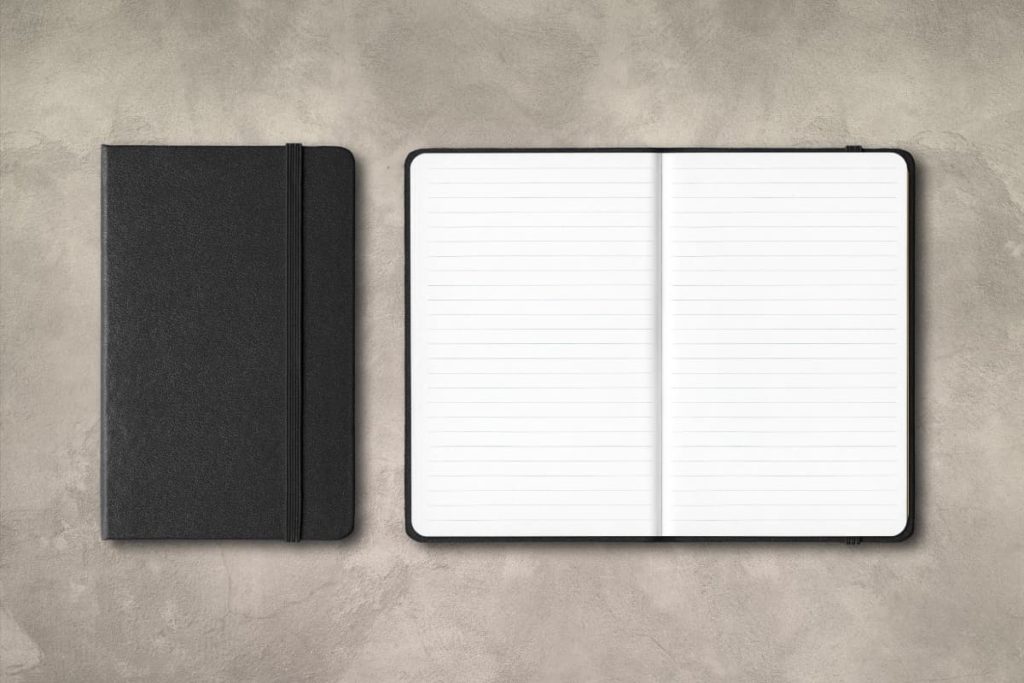 With eight different cover colors, there's nobody that this notebook wouldn't suit on a flight, a hike, or in your own home. The black leather is the most attractive due to its sophisticated look.
Pros
Strong: The leather-bound hardcover journal is equipped for traveling and won't get damaged easily.
Practical: The journal has a new holder, bookmark, and perforated pages, making it useful and convenient.
Portable: The notebook is rigid yet small and light enough to fit into a pocket or a bag for use anywhere.
Lined pages: Depending on who you ask, lined pages are great for poets. They add convenience and order.
Beautiful: The notebook is simple yet stunning with its leather cover and thick ivory pages.
Cons
Not refillable: Unfortunately, the beautiful paper finishes at some point. You cannot insert more pages once they've run out, which is the case with most notebooks, unfortunately.
Plain covers: The notebook has a simple sophistication and several color options, but it's pretty basic in appearance. Some might prefer a more decorative journal.
Affordable: Unlike other journals, this one is affordable, which means you can buy 2 or 3 at one time.
The Huhuhero journal has a soft yet firm faux leather cover, with 12 colors to choose from. This travel-sized notebook is light and convenient but has a strong bind and a protective hard outer covering.
The 128 pages in this notebook are the main event.
The 120 gsm premium thick, lined paper is 35% thicker than the paper in your average notebook, with no risk of ghosting or bleeding. The paper is more resistant to light and air damage, meaning it can be stored for a long time.
The cream color of the pages means less light is reflected off them, meaning less eye strain for the poet. This 5" by 8.25" (13 by 21 cm) journal is the perfect carrying size. It has a bookmark, elastic closing band, and expandable inner pocket at the back for added convenience.
Pros
Paper quality: This notebook has a superior paper look and quality that will allow a poet free reign with writing materials and allow them to keep their writing for years.
Affordable: The price is quite reasonable for the quality of the journal and the care put into assembling it.
Portable: This journal is pocket-sized, and while this may deter some, it's a massive advantage for poets who are always writing on the fly.
Cons
Few pages: Despite having superior paper quality, this journal has fewer pages than the others in this article, which means less space to write on. This notebook is not refillable.
Learn more about what makes paper fine quality here.
As far as beauty goes, this Persian Grove Journal is the cream of the crop. The covers and spine are embossed, adding gold foil detail to the almost mythical natural scene.
The journal includes gold interior end sheets, as well as gold page-edging.
It is 6" by 8"(15 by 20 cm), which is larger than some of the other items on this list, but they are well worth the price you pay. The 160 lined pages are light and have a nostalgic antique look that's easy on the eyes and the pen.
Despite the gold detailing, the book remains exceptionally light and portable, so you can show off your impeccable taste everywhere you go.
Plus, there's something poetic about writing in such a beautiful journal.
Pros
Beautiful: This journal is a sight to behold with embossed gold foil details and would make an excellent gift for a writer.
Durable: The hard cover, strong bind, and good quality paper mean this is a notebook that won't come apart easily.
Portable: This beautiful notebook is easy to carry around and show off.
Paper quality: This notebook has superb paper quality with an antique aesthetic that matches the outside.
Cons
Lined pages: This may be a pro or a con. Lined pages can hinder creativity for poets who like to sketch next to their work or don't like the look of lined pages.
Affordable: This notebook isn't expensive, but it's more costly than the others on the list. However, it makes sense considering the details and effort put into making it.
This budget journal is a solid yet flexible soft cover with a minimalist design. The 120 pages are lined, light, and strong enough to withstand most writing mediums, including fountain pens.
The 6" by 9" (15 by 23 cm) dimensions mean it's slightly larger than most items on the list but still very portable, light, and easy to store and transport.
The perfect binding is not likely to give any issues with strength. Despite the soft covers, light build, and thin paper, it's designed to be carried around and used anywhere. Though not quite as attractive or sturdy as some other journals on the list, it's still a beautiful gift and very affordable.
Pros
Affordable: The Mount Pleasant Publishing Notebook is inexpensive but does not sacrifice quality.
Beautiful: Minimalism is in, and this journal's minimalist cover design will stay fresh and fashionable for years to come, with proper care.
Portable: The small dimensions and flexible build mean it's so easy to pack, store or transport.
Cons
Thin, white paper: The thin paper has a slightly higher risk of bleeding than other notebooks, and the white pages could cause eye strain with prolonged use.
Very light: This journal's soft cover and lightweight components mean it is at a more significant risk of damage, but this can be avoided if it's cared for properly.
Key Points
If you're a poet who prioritizes practicality, affordability, quality, and aesthetic value, look no further than the EvZ Classic Key Bound Retro Vintage Notebook. It outshines the others in all aspects and is available now on Amazon.