Lynne is the author of ten novels, including her acclaimed debut Julia Gets a Life, and the award nominated Barefoot in the Dark. She has written two psychological thrillers under pen-name Lynne Lee: Can You See Me? and False Hope. Lynne has collaborated widely, as well as penning standalone memoirs as diverse as the antics of the world's biggest dog, Giant George, and the global bestseller, The Girl With No Name. She also ghosts a series for a major UK publisher, the first seventeen titles of which have all been Sunday Times bestsellers. Her most recent ghostwriting project is Fabulous Finn.
Ghostwriters do often write fiction, both independently under their own name or a pseudonym, and as partners in other projects! You can develop a professional career in both fields at the same time. Below, Lynne Barrett-Lee takes us through some of her experiences as both a ghostwriter and fiction writer.
1. Would you please tell us a little about your writing process?
It depends whether I'm writing my fiction, or ghostwriting somebody's life story. With the former, it usually starts with an idea, and a lot of scribbled notes, which eventually grow into a lengthy outline (some 8-10 thousand words) which I'll chop into potential chapters. Once I have that foundation, I usually feel confident enough to start the writing proper, which part of the process (and via several tweaks and crises, big and small) takes around six months.
If I'm ghosting, I'll start by creating a more formal outline and 'pitch', as non fiction books are usually commissioned on that basis. If the book is then commissioned, the writing time is shorter. I already have my 'cast' and 'plot', so the process is much more straightforward. It's probably worth noting that I didn't diversify into ghostwriting till I had a decent backlist of published work and knew I could deliver. I don't think I'd have had the confidence otherwise!
2. What motivated you to become a professional writer?
There have been few times in my life that I've really wanted to be anything else; certainly with nothing like the intensity. I read voraciously as a child and, on finishing a book I loved, would always feel the same: I wish I'd written that. I also found the romance of it all very appealing. It just seemed such a wonderful way to earn a living; to create something from nothing and be so blissfully free. Nothing that's happened since has diluted that feeling. I have had some lean times, and times of great uncertainty. But I consider myself incredibly lucky to do something I love so much and also make a living from it.
3. What are the most important steps an amateur writer can take to become a professional writer?
That most cliched of cliches first. Write. A lot. You are in the business of selling words and you need a decent level of stock. Where amateur writers have the luxury (and it is) of writing for pleasure and at leisure – perhaps pondering thoughtfully over the precise placing of a noun or pretty detail – a professional writer needs to get more of a shift on.
By which I don't mean that they should be 'churning' words out. It's more that you have to accept that for writing to become your day job you need to be doing it in a job-like fashion. That is, whether you are in the mood or not, much as do surgeons and bus drivers and astronauts.
There is also a strong relationship between writing a lot of words and getting better at writing. It's a win win. Don't agonise over your talent, or whether the muse is in town. Get your backside on your seat and just write. Accept the relationship between consistent effort and potential reward. Most of the time, there is a clear one. And as someone once famously said, luck needs to find you working.
The second step is to send your work out. To magazines and competitions early on, then, once that have a full length work, to agents I'm amazed how many people dither – sometimes for years – over that bit…
4. What is the best piece of advice you have received? Or, what is the best piece of advice you would offer an aspiring writer?
The best advice I ever received was to 'trust the process'. There are multiple times during the journey from initial idea to finished manuscript when it's easy to despair; to think everything you have written is useless, and that to soldier on would be a waste of time, be it in terms of prose-style, or characterisation, or plot.
To trust the process is to accept that this is a normal part of the process of creation. I was about three novels in when I finally understood this, because, in that state of despair, I would look at my previous, published novels, and think they were all so much more polished and confident than the rubbish I was creating with my new one. But then would remind myself that I had, at multiple points during the writing of them, thought they were rubbish too. So it's also the advice I'd give to an aspiring writer. You have to keep faith with yourself. Trust that you'll get there in the end.
5. Which books is it most important for an aspiring writer to read?
I genuinely don't think you can be prescriptive about such things. I have taught creative writing for over a decade and there are some who, such as I used to, love to immerse themselves in how-to books and guides, but others who perceive them to be of little benefit and would rather strike out unsupported.
That said, the single most influential book I have ever read about the business of becoming a professional writer is How to Write a Blockbuster, by Sarah Harrison. I suspect it's long out of print now, but I gulped it down in one sitting, and from that moment on I was filled with a degree of inspiration, ambition and tenacity that I'd not previously felt, and which I've never really lost. If anyone can track down a copy I can highly recommend!
6. If you were starting out as a writer today, would you do anything differently? What would be your first steps?
First and VERY important. Get a decent office chair, and a big eye-level monitor. On no account work at a laptop at the kitchen table. Your back, neck and shoulders will be eternally grateful. If you aim to do this for a living, NEVER forget this step.
7. What have been your most meaningful or profound experiences as a writer?
It's a novel I narrated from the viewpoint of a cat, called Able Seacat Simon. Flattered at being commissioned by a publisher to write it, I dived in with gusto, only to realise very quickly what a terrifying prospect it was. Simon was a real (and beloved) ship's cat, and lived aboard HMS Amethyst, the crew of which were attacked and held under siege, on the Yangtze River, just after WW2.
It suddenly struck me that not only did I not speak 'cat' (I had two at least, but they were less than forthcoming), but also that I couldn't confidently name the parts of a ship, let alone have any idea of mid 20th century naval slang. How on earth would I be able to take readers on such a journey with anything approaching authenticity?
Happily, after a lot of research and hand/paw-wringing, I got there, and my little tale was pleasingly well received. Best of all though, were the emails and letters I received, many from retired sailors, with whom it had clearly struck a chord. One lovely man still visits Simon's grave in London every year and always sends me a photo of the flowers he places there.
The whole process left me feeling so proud, and so humbled. It's a piece of work I really treasure.
8. What question do you wish you were asked more?
How does it feel to have one of your books made into such a huge Hollywood movie? I live in hope….
9. Would you mind sharing a photograph of a part of your bookshelf (or your library) that is meaningful to you?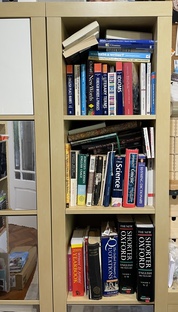 The photo I'm attaching is of one of the bookshelves in my office, and I'm sharing it as a reminder of how much life has changed in the last few decades. A couple of these books date back to my late teens and, as a group, these represent my entire writing journey. They have very much been the tools of my trade, from the battered Concise Oxford Dictionary and Thesaurus (both have travelled with me everywhere), to the Dictionary of Quotations, still bristling with post-it notes, and the volumes of poetry and grammar guides.
All have at some point been hugely helpful or inspirational. None have been looked at in perhaps four or five years now. A seismic shift in how we obtain information has rendered them largely redundant, but I'll never part with them. Every one is a cherished friend.
You can find Lynne's website here: www.lynnebarrett-lee.com
Her agent here: http://www.andrewlownie.co.uk/authors/lynne-barrett-lee
Lynne's Twitter: @LynneBarrettLee
Lynne's Psych Thriller FB: https://www.facebook.com/LynneLeeAuthor
Lynne's general FB: https://www.facebook.com/IwriteandIwriteandIwrite
Lynne's TEDx talk: https://www.youtube.com/watch?v=v7PMdQXvuOk