New York is a well-known hot spot for writers, with top publishers including John Wiley & Sons, HarperCollins, and Writers House. In addition, New York City holds the record for most writers' rooms in the nation. These creative spaces started developing in and around the city as early as 1978, with communities of countless writers flocking to claim real estate nearby ever since.
Most writers live in New York City, mainly in Brooklyn and Manhattan, as numerous writing communities are in and around these boroughs. The top neighborhoods holding the current record for the most writers and other artists are the Upper West Side, Greenwich Village, and the Financial District.
If you're considering a writing career in New York or just curious about where the top writers reside, you've come to the right place. Keep reading to find out where most writers live in New York and the top locations an aspiring author might want to consider.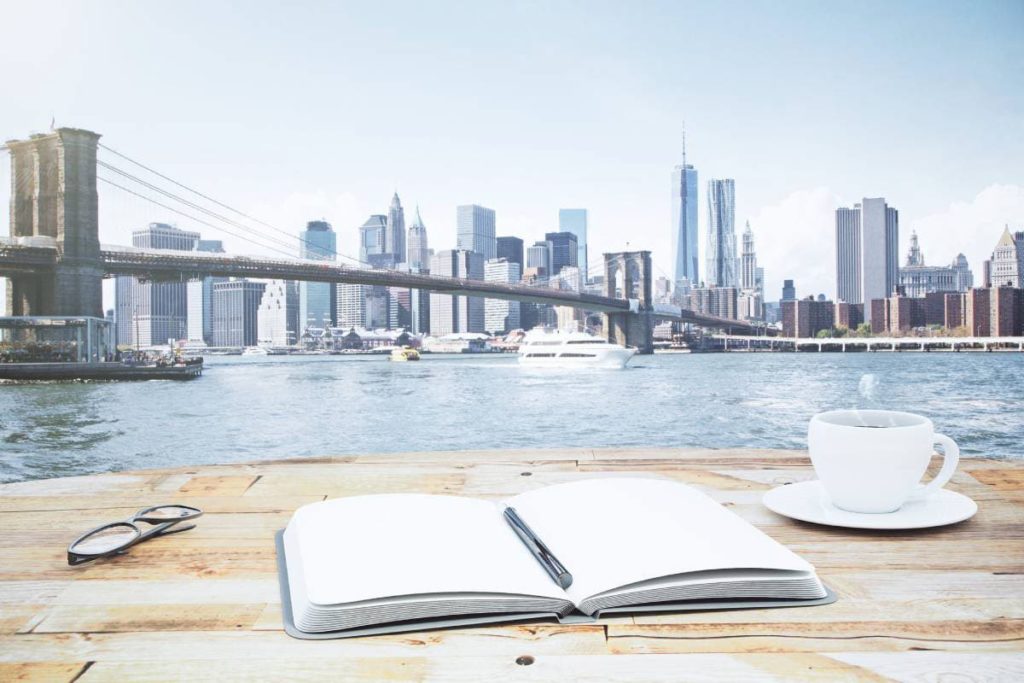 Top New York Neighborhoods Where Writers Live
For nearly two decades, mostly Manhattan and Brooklyn neighborhoods reign as the top locations where writers call home. According to the most recent 2015 report by the Center for an Urban Future (CUF), these are the top 10 neighborhoods with the most writers and other artists recorded living there:
Upper West Side (over 5,500)
Greenwich Village / Financial District (nearly 4,000)
Chelsea / Clinton / Midtown (over 3,700)
Upper East Side (over 3,000)
Williamsburg / Greenpoint (around 2,900)
Park Slope / Carroll Gardens (about 2,600)
Brooklyn Heights / Fort Greene (almost 2,500)
Lower East Side / Chinatown (over 2,400)
Washington Heights / Inwood (reaching 2,000)
Astoria (over 1,900)
As the result of economical changes and other impacting factors, several other neighborhoods have seen a significant increase in creative residents that's worth noting. Here are the 10 neighborhoods with the largest rise in artist population since 2000:
Bushwick (+1,700 / 1116%)
Williamsburg / Greenpoint (+1,200 / 75%)
Brooklyn Heights / Fort Greene (+900 / 58%)
Bedford Stuyvesant (+800 / 268%)
North Crown Heights / Prospect Heights (+650 / 114%)
Central Harlem (+653 / 216%)
Astoria (+552 / 40%)
Sunset Park (+550 / 124%)
Throgs Neck / Co-op City (+472 / 286%)
Park Slope / Carroll Gardens (+433 / 20%)
Popular Writing Communities in New York
There are several pockets of writing communities throughout the city where you can find an apartment or condo to live in and be within walking distance of any writing resource, event, or shop you could ever want or need. Here are a few popular communities to consider joining.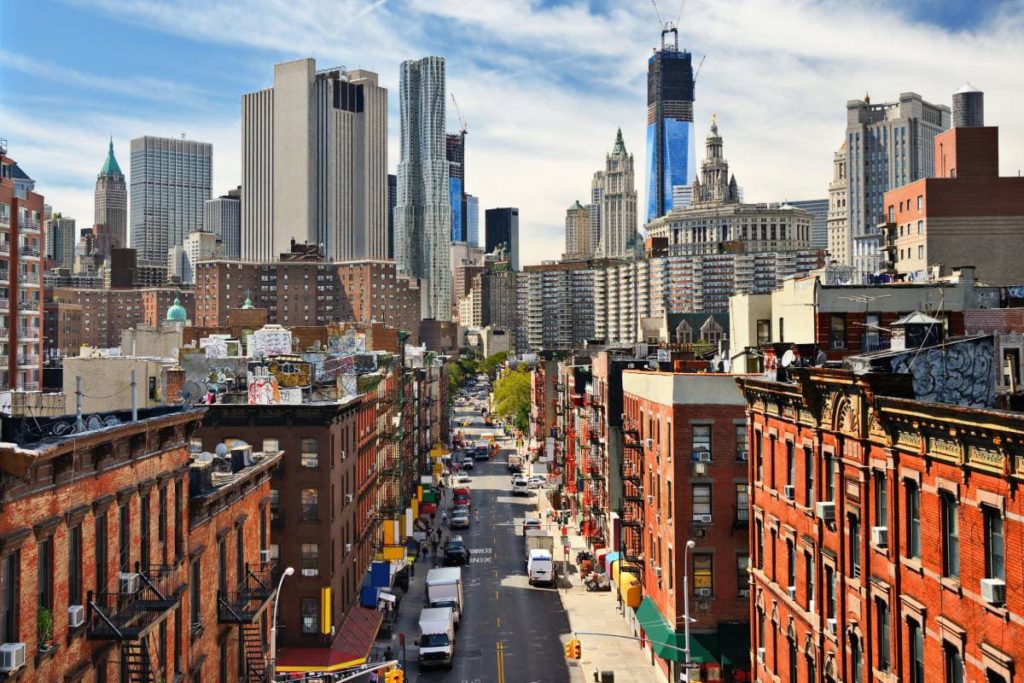 The Writers Room
Writer's block is a thing of the past at The Writers Room.
Located in a 12th-floor penthouse loft at 740 Broadway at Astor Place, this famous community is open 24/7/365 to offer support and a spacious, clean, well-lit, quiet space for writers as an affordable alternative to working from home.
Current members have thousands of books, articles, poems, and other pieces published, and over 500 staged plays and dozens of greenlit screenplays to their credit. Joining this accomplished community places you among serious professionals who are as committed to their craft as you and happy to assist in your development.
Gotham Writers Workshop
Gotham Writers Workshop was established in 1993 and has been a growing community ever since.
With headquarters located in Manhattan at 555 8th Avenue, Suite 1402, they have a library of invaluable resources for aspiring writers and offer classes, workshops, scholarships, special events, and more.
This supportive literary community is perfect for less-polished writers still learning to hone their craft. Yet, many seasoned students stick around to enjoy the benefits it provides.
The Center for Fiction
Located at 15 Lafayette Avenue in Brooklyn, The Center for Fiction is a nonprofit that has supported writers in their early careers for over 200 years. Members of this historic community enjoy exclusive discounts on writing workshops and other events and are welcome to borrow freely from the Center's library of rare finds and hot prints.
The Unknown Future of New York's Writing Communities
The annual writer's salary in New York currently averages shy of $65,000. Rent prices alone threaten to consume nearly 60% or more of that amount on a good day.
For nearly a decade now, writers and other creative types have expressed concern about New York no longer being a welcoming place for artists like themselves. A 2017 study by the CUF looked at population dispersal from 2000 to 2015 throughout the five boroughs, with many citing raised rent as a primary reason for moving.
Furthermore, in the aftermath of the state's response to the pandemic, the average rent in New York recently settled at nearly double the national average. The state also suffered a dramatic change and a more expansive shifting in population, as many were forced into more rural areas or out of the state altogether.
Due to this, both positive and negative consequences with direct effects on the established writing communities may still be yet to come. Be sure to keep this critical point in mind if you're thinking of moving there to settle in and start a career.
Famous Writers Who Started In New York
Countless writers have started their careers in New York going back to the 19th century, with many famous historic and modern authors emerging. Here are just a few authors we still know and love today who got their start in New York:
Toni Morrison (The Bluest Eye)
Herman Melville (Moby Dick)
Stephen Crane (The Red Badge of Courage)
Harper Lee (To Kill a Mocking Bird)
Walt Witman (Leaves of Grass)
Final Thoughts
While many may not stay, as Cheryl Strayed, Mira Ptacin, Sari Botton, and Melissa Febos attested to in their interviews for Why Writers Love New York City (and Then Leave It), New York has been a launching pad to help a legion of writers reach their wildest dreams of writing success.
At the end of the day, if you're considering moving to the famous city that doesn't sleep to pursue your dreams of becoming a famous writer, you're likely to find a supportive community in which to dwell.