Professional and aspiring writers alike are known to use a writer's notebook. Perhaps you even have poet peers toting some around or a professor who suggested you use one. Yet, what's the purpose of having and using a writer's notebook, and is it really necessary?
Poets use a writer's notebook to organize their thoughts, record inspiration, polish poems, practice techniques, and more. There's no wrong way to use a writer's notebook, and most writers benefit from having one. Keeping a physical notebook can also help to improve your health and boost creativity.
Wondering if a writer's notebook can help improve your poetry? Spoiler alert: it can and does! Keep reading to learn the benefits of using a writer's notebook and the different ways to consider utilizing yours.
Different Ways Poets Use a Writer's Notebook
You won't find How To Use a Writer's Notebook for Dummies on the bookshelves because there are no hard and fast rules for keeping a notebook. Every writer has a unique and preferred way of purposing their notebooks.
Still, a primary reason to have a writer's notebook is to record the things that kick your brain into gear and inspire you. Here are some different ways other poets do that.
Log Daily About Menial and Trivial Things
Plenty of writers use notebooks like a diary of sorts, as it's a perfect place to record the little details or summarization of your day that you might forget later. These little moments often serve as excellent prompts days, weeks, or even months down the road and help you create powerful details in your writing.
Experiment With Poem Ideas
Oftentimes, when you have a concept for a poem, you don't have every aspect of it thought out.
Perhaps you've decided on a general theme, and you know you want it to rhyme, but you might not yet be sure which style or feel would be ideal.
For example, would a limerick work better than a sonnet? Use your notebook to experiment with lines in various ways to keep creativity fluid and eventually craft the perfect verse. Who knows? You may end up with a free-verse epic by the time you're finished.
Practice Different Styles and Techniques
Similar to the suggestion above, you could use your notebook to practice and polish various poetry styles or try your hand at different structure types. Perhaps you enjoy writing haikus but want to try your hand at tankas?
Your notebook is a perfect place to practice this expansion and get used to incorporating the additional lines.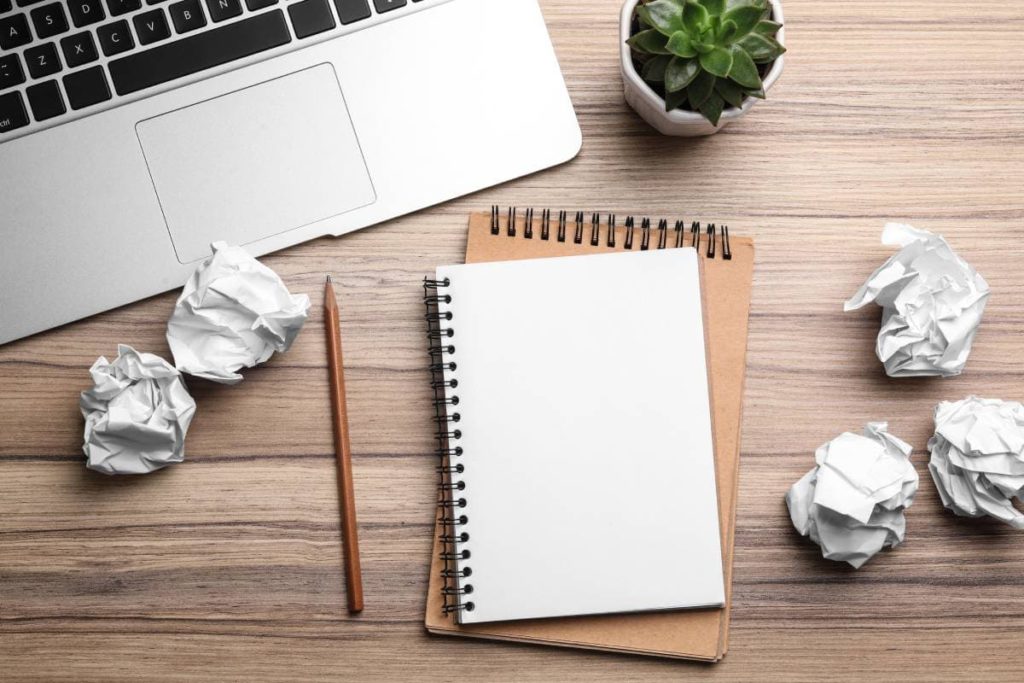 Collect Strategies and Set Goals
Your notebook doesn't have to be dedicated to the act of writing itself. Like students copying their professor's lecture notes, many writers use it to " study" their craft. In fact, many teachers suggest or even require their writing students to use a writer's notebook throughout the course.
Some writers collect different time-management strategies to help increase writing productivity.
Others might use it as a supportive day planner by setting writing goals and making notes to encourage follow-through. It could even be used for actual note-taking when reading articles or lessons about writing poetry.
Record Inspiration As It Comes
Many poets and other writers use their notebooks to capture and record moments of inspiration for later writing. This may include, but certainly is not limited to, things like:
Song lyrics
Famous quotes
Writing prompts
Poem ideas
Lists
Descriptions of things you see outside
Complements or criticisms you receive
Fortune cookie fortunes
Overheard conversations
Memories
Newspaper or magazine clippings
Photographs
Drawings or doodles
Keep Structured Organization…or Not!
Keeping on the theme of "use it as desired," your notebook can be structured or unstructured –whatever works best for you.
For instance, you could divide it into different sections for easier reference to something later. Part of your notebook could be dedicated to goal-setting, a few pages for motivational quotes, and a portion for daily diary entries.
Or maybe you're not the type to care or worry about keeping your thoughts organized.
For many, it's more important just to have something logged. Whether or not it's labeled appropriately or classified in any form, it doesn't matter. And this is just as well. Whatever method serves you best is how you should use your notebook.
Why You Should Consider Using a Physical Writer's Notebook
Today, in the 21st century, many of the world's writing and publication jobs exist online. Paper and pen have been replaced by screen and keyboard technology, and entire library collections are now housed within an electronic rectangle inside your pocket.
While these advances have undoubtedly helped improve communications and how quickly literature can travel the world, they've also put a strain on the health of tech users.
For instance, sitting and staring at a computer or phone screen for prolonged periods has been suggested to:
Induce headaches or migraines.
Cause body pains and poor posture.
Raise stress levels.
Worsen moods and cause depression.
Create dark circles under the eyes.
Dull skin complexion and create/worsen wrinkles.
Lead to vision problems.
Increase risk of obesity.
Result in sleeping problems.
And think about how these issues can adversely affect your work!
You can't exactly be on top of your writing game when you're sleep-deprived, stressed-out, and suffering through headaches all day long.
Besides, the internet isn't perfect yet when it comes to reliability or security. For example, where are you to safely record your thoughts when the system is offline, or what if your cloud account fails to back up correctly? And let's not forget just how distracting the web can be.
Technology certainly has its advantages, yet apps such as Google Docs, Scrivener, and Evernote aren't helpful for keeping track of inspiration. Word processors are ideal for to-do lists or first drafts, but these don't exemplify or support your creativity.
So, what's the solution?
Get a Physical Writer's Notebook
Hopefully, you're convinced a writer's notebook could help you with your poetry. If so, consider purchasing a writer's notebook for yourself –right now, while reading this post! Here are some high-quality notebooks (available on Amazon.com) for you to consider.
This notebook contains 110 College Ruled pages and features 18 motivational and inspirational quotes printed on the cover as poetry prompts. It's made with a crisp white paper that prevents ink bleeding and has a high-quality binding.
At 6" x 9" (~15 x 23 cm) with a durable and protective paperback cover, it's easily carried in a purse, backpack, or even a large pocket, making it perfect for capturing inspiration while out and about.
Poetry Journal: A Slam Poetry Notebook for Poets, Spoken Word Slammers, & Lyrical Gurus
Looking for a genuinely blank notebook? Many artists often feel that lined paper can "cramp their style" and hinder creativity and prefer a truly empty canvas.
Made by poets, for poets, this paperback journal provides 120 un-lined, completely blank pages for you to use as you please. Make your own margins, write on an angle, or doodle–whatever you want, without lines in the way.
Final Thoughts
Whether used to keep track of ideas, log lines of inspiration, or polish pieces for publication, all poets can benefit from a writer's notebook. Especially if you've never had a dedicated space to showcase your creative processes, a writer's notebook can do wonders to help develop your poetry!